The Quick and Easy Guide to Air Fryer Roast Beef Dinner
Did you know you can make an entire meal in your air fryer? Here is everything you need to know to make a juicy and tender roast beef meal in the air fryer. This recipe is a no-fail hit that will have everyone wanting more!
You probably already know that I think the air fryer is a fantastic addition to your kitchen. But one common complaint is that you can't cook an entire meal in it like you can in your oven. Today, I'm going to cast all those doubts to the side.
This Roast Beef with Potatoes, Carrots, and Onions air fryer recipe is not only easy and tasty, but it's also so adaptable! Not a fan of carrots? Omit them or replace them with a different vegetable!
Keep reading to learn how to make any dinner in your air fryer like this roast beef or cook along with me in this video!
What cut of beef should I get for Air Fryer Roast Beef?
You are going to be surprised with how easy this recipe is! You will need to keep an eye on your roast, but for the most-part it's a hand-free, easy-peasy recipe!
For best results with your air fryer roast, you will want to purchase a nice cut of beef that is dark red and has nice marbling. Get a roast around 2-3 pounds so it will fit nicely in your air fryer (if you can't easily find one, you can ask your butcher to cut you one that size).
For an air fryer roast, I do NOT recommend the cheaper chuck roast or shoulder roast, as they will turn out more tough. Instead, opt for a tri-tip roast. It's a little more expensive per pound, but so worth it!
4 Tips for Making the Best Air Fryer Roast Beef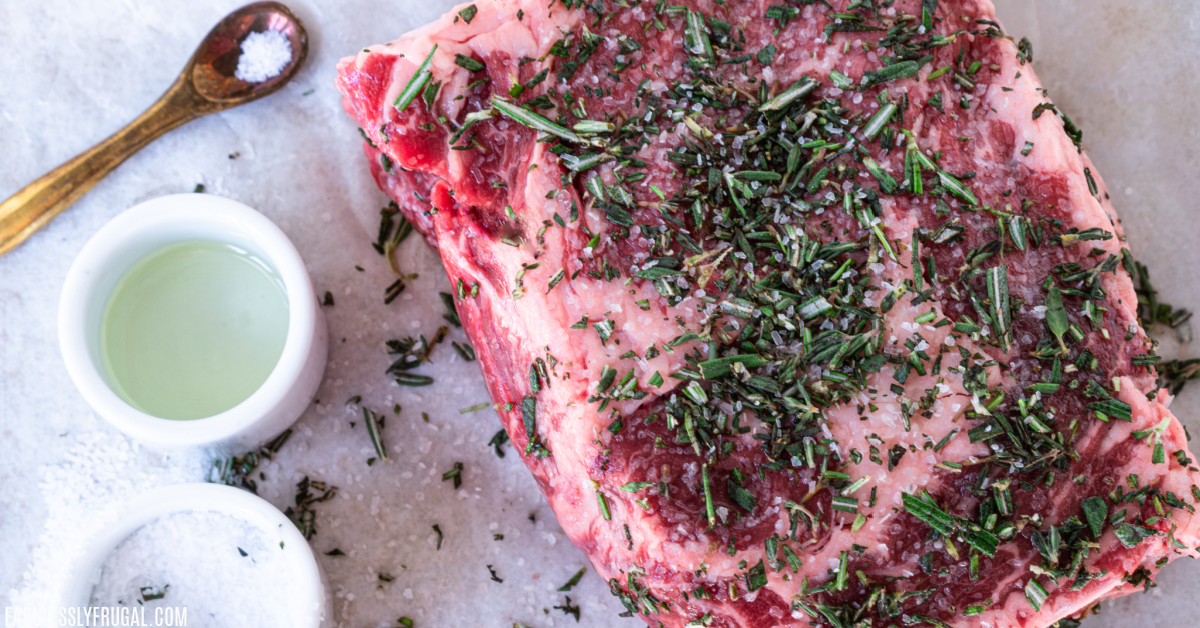 After you pick out the perfect roast, there are some key things you need to do to prep your roast beef for the air fryer.
Tip #1: Temper your meat.
Pat your meat dry with some paper towels and let it sit out for about 30 minutes to an hour (depending on size). This will help it cook more evenly.
Tip #2: Prepare your spices.
You can choose any of your favorite spices for this recipe- fresh or dry. I LOVED using a few sprigs of fresh rosemary and thyme.
Tip #3: Liberally salt your roast.
After you oil your roast and before you add your spices, liberally salt your roast with more salt than you think is necessary. It may seem like a lot, but trust me, it will enhance the delicious flavors of your beef.
Tip #4: Preheat your air fryer.
Once your roast is prepped for the air fryer, be sure that you preheat your air fryer to 400°F/200°C for 5 minutes before cooking.
Should I preheat the air fryer? Learn more in this YouTube video.
How to Make an Entire Meal in the Air Fryer- Easy Air Fryer Roast Beef Recipe
Air frying the roast is just one part of the dish. Now its time to make your vegetables. While your roast cooks for the first round (see recipe below for cooking temp and time), prepare your vegetables for the air fryer.
What I love about this recipe is that you can change it up easy-peasy! The veggies I chose with my roast were Yukon gold potatoes (about 1.5 pounds), one yellow onion, and a 2 whole carrots.
How to cook air fryer vegetables with roast beef?
To make tender and delicious vegetables in the air fryer, make sure that your veggies are similar in size as you chop them. This will ensure that they cook evenly.
You also want to make sure the vegetables are completely dry before spraying them with avocado or olive oil. (I recommend avocado oil in a Mistifi oil sprayer – see why here: Top Air Fryer Mistakes). If the veggies are dry they will be able to roast better in the air fryer. The oil will also help the veggies roast and get tender and crunchy!
How do you know when roast beef is done cooking?
If you want perfectly juicy roast beef, you need to watch the internal temperature of your meat with an instant read meat thermometer. This will help you decide how long to cook your meat for because every air fryer model varies in cooking temperature and time.
Check out my awesome printable of all the internal temps you need for cooking and baking! 
When should you change the temperature on the air fryer?
If you are ever unsure about your cooking temp and time, I recommend decreasing temperature by 10-25 degrees and reducing cooking time by 25%-50%. Then you can always add more time or crank up the heat. Its better to have under cooked food because its an easy fix… but overcooked food, there is nothing you can do about that!
What is the internal temperature of roast beef?
The nice thing about roast beef is that there isn't one temperature you can shoot for. Depending on how done you want your roast beef will change the internal temperature that you want. Here are the internal temperatures for roast beef:
A medium-rare roast beef needs the internal temperature to register at 135ºF with a warm red middle and a slight pink around the edges.
A medium roast beef make sure it reads 145ºF on your instant read meat thermometer and will have a warm pink throughout the roast.
A medium-well roast beef will read at 150°F on instant read thermometer and have a slightly pink center.
A well done roast beef needs to read 160ºF.
When should I pull the roast beef out of the air fryer?
Have you heard of tenting your meats? If you take out the roast beef anywhere before between 140-145°F, then place wrap it in tin foil this will allow the roast to continue to cook and let the juices redistribute without drying out. I let it rest for for 5-10 minutes to let it come to temperature.
Of course, you can do this for any of the desired roast beef temperatures you are looking for. Simply take out the roast 5 degrees or so before it comes to temperature and do the same tenting method as previously explained.
When are vegetables done cooking in the air fryer?
I like to test if my vegetables are done roasting by poking a fork into my potatoes. Potatoes normally take the longest to cook, so once the fork can be easily inserted into the potatoes, then I know my vegetables are done cooking.
If your roast is done, but your vegetables are. Remove the roast from the air fryer basket and tent it in foil. Continue cooking the veggies in the air fryer. Normally, I will crank up the heat anywhere between 370-400 degrees Fahrenheit and cook them for an additional 5 to 10 minutes.
Final Thoughts
This delicious air fryer roast beef is a perfect and easy Easter dinner that can be ready in an hour. You will be so surprised with how easy this recipe comes together and how juicy the roast beef actually is! I love that I can cook the side dish with the roast in no time.  Everyone will think you spent all day on this roast beef recipe, but you will have it done from start to finish, in less than an hour!
I can't wait to hear how this complete, flavorful, and nutritious dish went for you! Tell me about it in the comments below!
Did you know you can also make these amazing recipes in your air fryer?
Other delicious roast recipes that you can make this Easter season
Don't make the same air fryer mistakes that I have! Read everything that you need to know about your air fryer:
Air Fryer Juicy Roast Beef and Tender Vegetables
Did you know you can make an entire meal in your air fryer? Here is everything you need to know to make a juicy and tender roast beef meal in the air fryer. This recipe is a no-fail hit that will have everyone wanting more!
Print
Pin
Rate
Ingredients
3

pound

roast or smaller

See note

1.5

pounds

Yukon gold potatoes

1

yellow onion

cut into 1/8th

12

oz

Baby carrots or 3 whole carrots

Oil of your choice

Salt and pepper to taste

2

sprigs Fresh rosemary

Fresh thyme
Instructions
Take meat out of the package, pat dry, and temper the meat for 30 minutes.

While the meat tempers, prep your spices/seasoning. I did fresh rosemary and thyme. You can use dry spices or any other spices of your choice.

Once the meat has tempered, take off any excess fat. Then rub a little bit of oil into your meat. You don't need a lot here, just enough to lightly cover the outside. The oil will help the outside brown and the spices adhere to the meat.

Liberally salt the meat and rub it in. Do a little more than you think is necessary.

Season the meat with spices and pepper. Then rub it in.

Let your meat sit while the air fryer preheats at 400°F/200°C for 5 minutes.

Place meat in air fryer basket. Tuck any smaller ends of the roast into itself so that it cooks evenly. Cook at 400°F/200°C for 10-12 minutes.

While the meat cooks, prepare the vegetables.

For the potatoes: wash, dry, and cut into equal sized cubes. About 1 inch thick, but you can make them as big or as small as you want. Either directly spray with oil and salt on your cutting board or toss in a bowl with oil and salt.

For the carrots: If using whole carrots, cut into equal bite-sized pieces. Wash, and pat dry.

For the onions: cut into eighths. Combine with carrots and spray with oil, salt, and mix together.

When the roast finishes, flip the roast, then cover with the potatoes, onions, and carrots. Cook for 20 minutes at 360°F/180°C.

At the halfway point (10 minutes), check on the roast with an instant read food thermometer. You want the roast to register at 145°F/62°C. Take the roast out of the air fryer basket, stir the vegetables, Flip the roast, and finish cooking for the last 10 minutes.

If your meat hasn't registered at 145°F/62°C after 20 minutes, stir the vegetables, flip the roast and cook for an additional 5 minutes at 360°F/180°C.

Repeat last step until roast reaches 145°F/62°C.

Once roast is cooked through, tent the roast in foil for 10 minutes.
Recipe Notes
I recommend a quality-cut 2ish pound beef roast, like tri-tip or sirloin with dark red coloring. The traditional chuck or shoulder roast meat require more of a slow cook to get tender. In an air fryer, they'll be more tough.
Nutrition
Calories:
654
kcal
|
Carbohydrates:
41
g
|
Protein:
80
g
|
Fat:
17
g
|
Sodium:
261
mg
|
Fiber:
7
g
|
Sugar:
7
g
Recipe Adapted From: Love Food Not Cooking
Trending Recipes
Sorry, Current deals list is finished.