Fall Decorating Trends We Are Loving!
Fall is such a fun time to switch up what you wear, do, and watch. Why not make some home decor changes too? We're falling in love with these ten best ball trends we've been seeing. While pumpkins and gourds are THE fall decorations we all love, sometimes it can be fun to switch it up (or at least add on). Check out all our harvest inspirations below.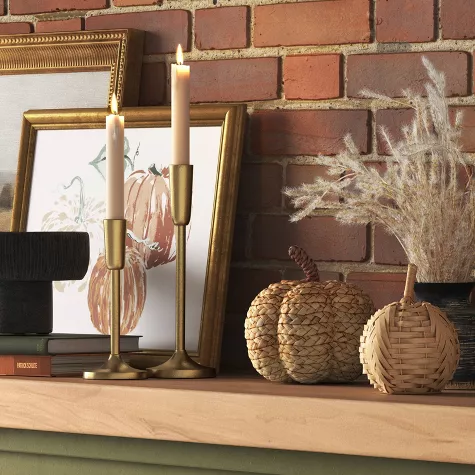 1. Colors & Textures Inspired by Nature
Fall decor inspired by nature can bring the cozy changes of the season, inside. This Round Rattan Tray or this Wicker Serving Basket brings the texture of the outdoors Into the home. A twist on a classic, this Woven Pumpkin brings fall and nature together seamlessly.
2. Velvet
Different textures are a good way to spruce up your decor. Velvet adds a warm, inviting, and cozy feeling. Add some Velvet Pumpkins for a subtle velvet texture. Or add these Ruffled Velvet Throw Pillow to cozy up your couch.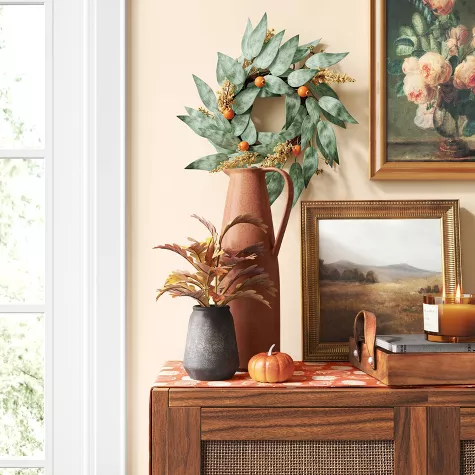 3. Subtle Seasonal Items
Sometimes you want to decorate, but you want to keep it understated. This Large Champagne Glass Pumpkin gives you the feel of Fall without being over the top. Try this Prairie Land Framed Canvas Board to add some subtle Fall to your wall. We also love this Fall Leaf Wreath Green to add to your doors or a wall.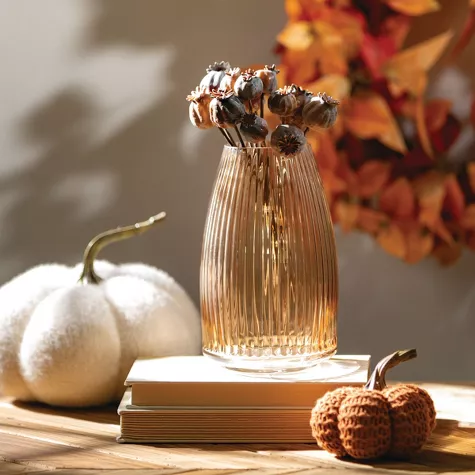 4. Colored Glass
Glassware adds a surprising aspect to Fall decor. Adding colors like orange/rust or purple can create the Fall feels we're looking for. We love this Ribbed Glass Vase or Glass Bud Vases Set of 6.  If you want to switch up what you're sippin' in, try these Colored Drinking Glasses Set of 4.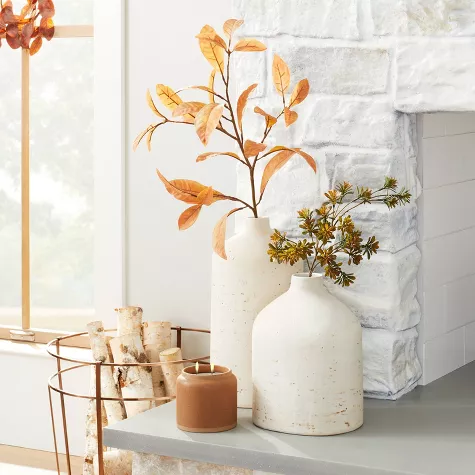 5. Branches & Dried Flowers
 Dried Pampas Grass Decor Is a trendy way to add Fall to your home. Arrange the dried grass in this Distressed Ceramic Natural White Vase for a fun rustic feel. You can also simplify it with some Eucalyptus Leaf Arrangement in Burgundy for a pop of color.  If you are looking for another way to Incorporate the look, get this Mini Grass Wreath to hang on your wall.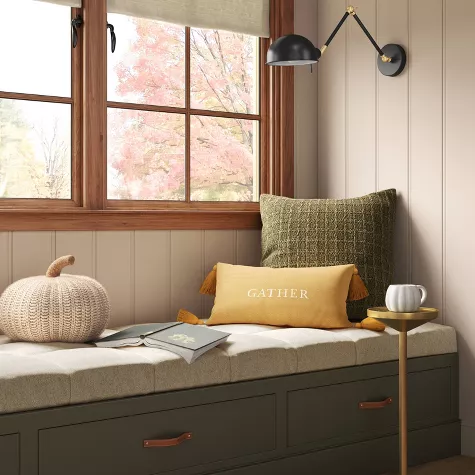 6. Neutrals
This trend is for all our minimalists out there. Sometimes you want the feel of Fall without overdoing it. This Knit Pumpkin brings subtle beauty. While this Oversized Woven Pumpkin Lumbar Throw Pillow brings a pop of color with a side of simplicity. Add this Braided Stripe Table Runner for a simple accent that you can dress up how you want.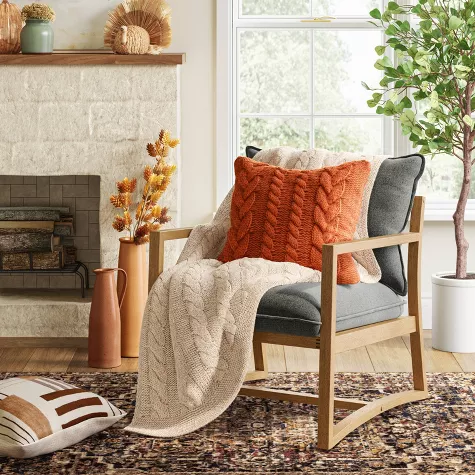 7. Chunky Knits
Fall has a way of making you want to cuddle up and drink something warm. Maybe it's the cold weather, or the falling leaves. Not only are these Chunky Cable Knit Throw Blanket and Chunky Throw Blanket cozy, they look cute hanging off your couch or bed. Add one more chunky knit element with this Rust Decorative Throw Pillow.
8. Candles
Warm and inviting, candles can be a luminous decor option that helps bring your fall decor together. Check out these Taper Glass Candlestick Holders and fill them with Orange Taper Candles. Make It more dramatic with this 5 Wicks Metal Candle Holders for Taper Candles.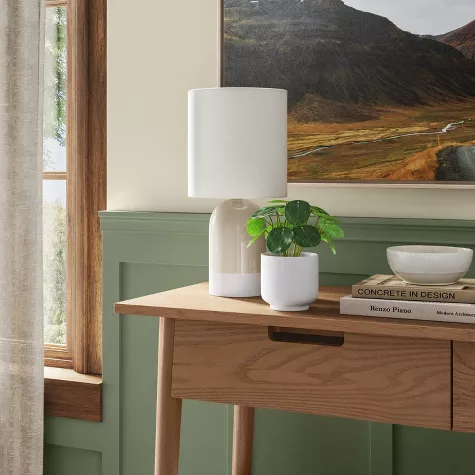 9. Lamps
Adding more light can be a good way to add comfort to your home. This Mid Century Wood Tripod Floor Lamp and LED Floor Lamp adds the light that you might be missing. If you are looking for a small light addition, check out this Ceramic Mini Table Lamp.
10. Geometric Patterns
These Geometric Velvet Throw Pillows are a good combo of geometric trends we love and velvet trends we crave! Or get this Geometric Style Table Cloth, add some candles and create a fall look of your own.
---
Save Money on the ESSENTIALS in THREE Easy Steps!
Download our FREE app [CLICK HERE!]
Tap to select the types of deals and brands you want deals on.
Sit back and relax… we'll find the deals and send you a notification when the stuff you want costs LESS!
Please select the problem you are facing with this deal:
Price Increased
Price Decreased
No longer available
Expired
Link doesn't work
Suggestion
Compliment
Other
*Please select a problem type.
Add more details:
Thank you for your feedback. We really appreciate it.
Enter your email address if you would like to receive a follow up.
*Please enter a valid email address.
Thanks for providing the email address.
We will reach out to you as soon as possible.
Sorry, Current deals list is finished.