12 Reasons Why You Should Go to Disneyland
Have you been searching for the perfect place for your next family vacay? We have just the spot, Disneyland! And we can help do it for cheap!
12 Reasons to Go to Disneyland for Your Next Vacation
If you know us here at Fabulessly Frugal, you know we love Disneyland. Everything is so magical and you really can't go wrong with a Disneyland vacation. There are just so many good things about Disneyland!!
Our friends over at Get Away Today are our go-to travel agency for all things Disneyland and Southern California. They have discount Disneyland tickets and when you pair them with their low hotel rates, your vacation won't only be magical, but it will also be affordable!
If you're not 100% sure whether you want to go to Disneyland yet, we're here to tell you what you'd be missing out on. Here are 12 reasons why you SHOULD go to Disneyland for your next family vacation:
#1: It can be affordable
Okay, you might be disagreeing on this but hear us out. When you book your Disneyland packages with Get Away Today, you can put them on their Layaway Lock-In Plan. They only require $125 down and payments are super simple.
You can pay however much you want whenever you want, as long as your trip is paid off 15 days before your check-in date. It is a $50 fee to begin, but it is totally worth not having to pay the whole thing in a lump sum on a credit card. Plus, they have discounted tickets and reduced hotel rates! That alone will make your trip even more affordable.
When you book your hotel through Get Away Today, you also get exclusive perks at select hotels like free breakfast, free or reduced parking and even a 3rd, 4th or 5th night free. Plus, you can use promo code FabFrugal15 to get an additional $10 off your package as well!
#2: Family-friendly
No matter your age, there is something for each of you at Disneyland. There are plenty of rides that accommodate those with babies or they also have a rider switch option available so everyone can ride!
From roller coasters to carousels to story rides, there will certainly be something for all ages to enjoy. And let's be honest, isn't it nice for mom and dad just to be able to be kids again too?
#3: Character meet & greets
One really great thing about Disneyland is that your little ones can meet their favorite characters. The characters at Disneyland are great with kids and really take the time to make them feel special. They are more than happy to pose for a picture too.
Don't forget to bring an autograph book and sharpie to get an autograph from them, it will give your littles something to remember forever! I mean I can still remember when I met Cinderella (my favorite princess growing up) when my parents took me to Disneyland and I am sure your kids will treasure those memories as well.
#4: Entertaining parades
If your feet need a rest, take the time to watch a parade. There are plenty of options both in Disneyland and in California Adventure for you to enjoy.
Depending on the season, you can see a variety of parades, and all your favorite characters during it. Whether at night or during the day, this is something you won't want to miss.
HINT: Get there early so you can get a seat! It gets so packed!
#5: Excellent shows
Parades aren't the only thing to enjoy at the park while resting your feet, Disneyland has incredible shows as well. From Broadway-style shows like Frozen-Live at the Hyperion Theater to fun outdoor shows like Mickey and the Magical Map.
You also won't want to miss the ever-famous World of Color water show in California Adventure! This summer, Fantasmic! made its reappearance in Disneyland and is better than ever. Each show is so different, we recommend taking the time to see them all.
#6: Fun rides
You can't talk about Disneyland without talking about the fun rides. Whether you prefer roller coasters like Space Mountain, quest rides like Indiana Jones Adventure, or calm rides like Peter Pan's Flight, there is something for everyone in your family to enjoy.
Don't forget to take advantage of the Fastpass system for select rides that offer it, to give you even more time to ride your favorites.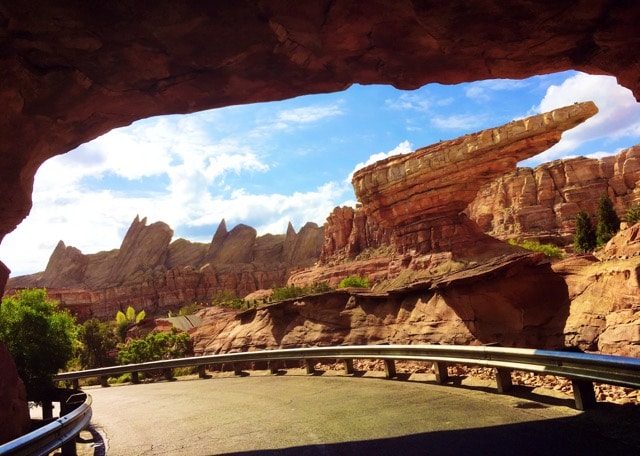 #7: Memory-making
If there is one thing that Disneyland does well, it's giving you memories that last a lifetime. The fun, the magic and the joy that comes with a trip to Disneyland gives you something to hold on to forever.
My kids are still talking about our most recent trip to Disneyland and they love to look at our pictures! The best part is that everyone, no matter the age, will enjoy Disneyland. It is a vacation for ALL.
#8: Picture perfect photo ops
Also, speaking of Fastpasses and memory making, if you decide to use the all-new MaxPass, you get the PhotoPass included! That means, for only $10/day per person, you get easy access to Fastpasses AND professional pictures taken by cast members of you and your crew at Disneyland.
There are so many spots that are perfect for snapping a quick picture to get that perfect shot. Some popular spots for pictures are in front of Sleeping Beauty's castle and in front of Pixar Pier.
#9: Great weather
Another great perk of visiting Disneyland for your next vacation is the weather. On average, the lowest temperature of the year is in the mid '40s-'50s and the high is around 90. If that is the high and the low, the in-between is pretty much perfect if we do say so ourselves!
There are great ways to cool off at the parks when it does get a little warmer, and you can throw on a jacket when it gets a little cooler. Because of this great weather, Anaheim is the perfect destination to pair with a trip to the beach or another theme park.
#10: Welcoming environment
If there is one thing that Disneyland does well, it's keeping the park an inviting place! Each cast member makes you feel so special and the park is SO CLEAN! It really is incredible how well kept everything is. All the attractions look brand-new and you always feel welcome when you visit the Disneyland Resort.
#11: Yummy food
Let's be real, you can't take a trip to Disneyland without indulging yourself in a treat or two. All the food at Disneyland is to die for and you can't miss out on some of those classic treats.
Do you hear that? That's a Dole Whip, churro and turkey leg calling your name! You know you want one!!
#12: There's always a reason to celebrate
Whether you're visiting the Disneyland Resort for a birthday, anniversary, family reunion or just celebrating life, you're in the right place. A great tip to start your celebrations is at City Hall right when you enter Disneyland. They have free (that's right, free) celebration pins for tons of different reasons. When you get a pin, everyone in the parks can celebrate with you!
SO, What are you waiting for?
We are only scraping the tip of the Matterhorn with these reasons to go to Disneyland. It is the place to be for your next family vacation!
Our friends at Get Away Today can help you get there at an affordable price. Book your Southern California package online at getawaytoday.com or over the phone at 855-GET-AWAY. Use promo code FabFrugal15 to get an additional $10 off your package!
Time to Go to Disneyland! Am I Right?!
These are just 12 of the reasons why you should go to Disneyland but at the end of the day, if Get Away Today can help you do it in your price range, you really have NO excuse not to go! Your kids won't stay little forever (although I wish they would), so go on a family vacay and make sure Disneyland is the place you pick!
Who's going? Comment below and tell us when you will go to Disneyland next!
Check out these related posts:
Please select the problem you are facing with this deal:
Price Increased
Price Decreased
No longer available
Expired
Link doesn't work
Suggestion
Compliment
Other
*Please select a problem type.
Add more details:
Thank you for your feedback. We really appreciate it.
Enter your email address if you would like to receive a follow up.
*Please enter a valid email address.
Thanks for providing the email address.
We will reach out to you as soon as possible.
Sorry, Current deals list is finished.