FREE HGTV Magazine!
Do you love a good DIY project?
Try the HGTV magazine for FREE and see all the tips and trick from the best home experts!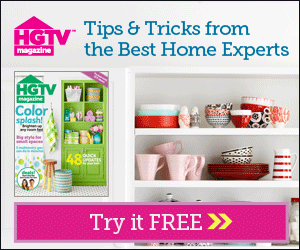 If you like what you see, you'll get 9 more issues (10 in all) for just $19.99 — that's like getting 5 ISSUES FREE! If you're not satisfied, return the bill marked "cancel" and keep the first issue absolutely free, with no obligation.
Plus, think of all the money doing it yourself will save you instead of hiring someone else!
Please select the problem you are facing with this deal:
Price Increased
Price Decreased
No longer available
Expired
Link doesn't work
Suggestion
Compliment
Other
*Please select a problem type.
Add more details:
Thank you for your feedback. We really appreciate it.
Enter your email address if you would like to receive a follow up.
*Please enter a valid email address.
Thanks for providing the email address.
We will reach out to you as soon as possible.
Sorry, Current deals list is finished.