Air Fryer
|
Main Dish
|
Summer
What Can You Make in the Air Fryer? If you can bake it, deep fry it, or grill it, you can probably make it in the air fryer! There are so many reasons why I love my air fryer. Since getting my Cosori Air Fryer in 2020, I have discovered many fun and surprising recipes that you can make in the air fryer. Today, I am excited to share with you 15 recipes that I bet you didn't know you can make in the air fryer. These recipes are simple and will make you want to get an air fryer,...
Read this post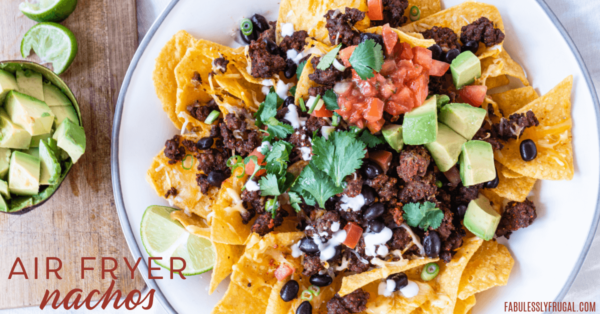 Air Fryer
|
Main Dish
|
Summer
The Best Nachos in the Air Fryer Are you ready to try some of the best, crispy nachos ever? You are going to love these delicious air fryer nachos because it is ready in just minutes! I love this one because it is so simple, even my kids can make it. What...
Read this post
Main Dish
|
Egg Free
|
Meat and Poultry
These Mexi Stuffed Peppers are easy and delicious! This is a simple freezer meal to prepare for your family, just thaw it and cook for 30 minutes and you have dinner all ready.  I like to add some salsa, sour cream and eat with tortillas or tortilla...
Read this post
Summer
|
Egg Free
|
Appetizers and Snacks
Delicious and Easy Mexican Bites These little Mexican bites are full of flavor and there's no cooking required to make them! They're a great healthy appetizer, party food, or just an awesome snack you can make quickly at home. Just layer black beans,...
Read this post