SURVEY SURVEYS SURVEYS: So Many Companies, So Many Choices, So Many Prizes!
Want to earn some cash or rewards?
We know a lot of you dear readers LOVE joining survey companies. We also know there are SOOO many choices out there. You can give your opinion on everything from your favorite food to the kitchen sink, and be rewarded with everything from food to, well, a kitchen sink! Here are some that we have heard some good feedback on. If you work with these companies now, or have in the past, pipe up and let us know why you loved/hated them. What prizes/compensation did you earn? Was it worth your times? If you've joined multiple survey companies, which one was your favorite?
Springboard America gives Americans like you the opportunity to speak up on what affects their daily lives – from products to politics. By joining Springboard, one of America's leading online research communities, you'll become eligible to receive invitations to our surveys, earn Survey Dollars and to help shape America's future! 
Opinion Outpost conducts surveys because businesses, governments, public bodies, and similar organizations are interested in the views and attitudes of the people who use their products and services. The more they know about what customers and citizens think, the easier it is for them to improve and adapt what they supply. Take Surveys to give your opinion and shape the future.
MySurvey.com is a group of consumers from throughout the United States who influence future products and services by volunteering to participate in consumer research. By sharing your opinions about products and services, you are rewarded with Reward Points to redeem for cash and merchandise.
Do you know that companies are paying top-dollar to have users like you try their products and services for free? At CashCrate, they pass that money on to you. Simply complete free offers and get paid without spending a dime!
Inbox Dollars pays members to read emails, take surveys online, play games, and go shopping! New enrollees also receive $5 just for joining !
Valued Opinions… Don't give your opinions away get paid for them!
Join Nielsen Home Scan Consumer Panel – Earn valuable points, which are redeemable for electronics, household items, jewelry, toy, gift cards, and more.(no landline required with this homescan signup)
PineCone Research conducts on-line interviews with consumers from all walks of life to obtain their opinions about new products. To become a panel member, all you need to do is complete the simple form by clicking above. This will only take a few minutes of your time.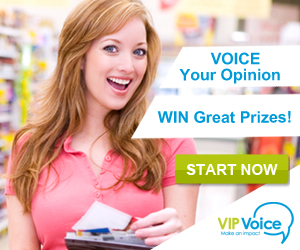 Join VIP Voice today by signing up and completing your member profile.
Speak your mind. Make a difference. Earn rewards.
You're only moments away from sharing your voice and influencing the companies behind the products and services you love.
You will be eligible for exclusive rewards like free samples, money-saving coupons and special offers tailor-made for you.
You'll be entered to win $10,000 cash in our Shopper's Voice® sweepstakes and qualify for our monthly draw for $500! Plus keep an eye on your email inbox for more great offers from Shopper's Voice®!
Where people talk to and about brands Welcome to YourWord. Join in to connect, discover, and share your views on the brands you use each day.
Joining is free! Sign up today to get immediate access to paid offers.
Evaluate products and services of your interest and give us your feedback.You get compensated!
Watch your account balance grow, then you can request a payout!
Market research companies around the world are ready to pay you for your personal opinions. Make a difference…and make some money on the go! Download iPoll now for free and get $5.00 cash in your account!
Many ways to earn Cash…
* Read emails
* Take surveys
* Play games
* Shop online
* Redeem coupons & more!
Here's How It Works:
1.SIGN UP! Create your free account by clicking the "JOIN NOW – FREE" button
2. ACTIVATE! Click the link in your confirmation email to complete your registration.
3. EARN! Earn CASH when you need emails, take surveys, shop online, redeem coupons & more!
Sorry, Current deals list is finished.