Preschool in a Box {Everything you need to start a Preschool!}
So if you've been following our blog, you're no stranger to the fact that first and foremost, I love saving money.  But secondly, I love MAKING money!  If you've been to one of our classes, or have been following the blog for awhile, you know that I used to teach preschool in my home to make extra money – and I LOVED it!  So when I heard about Joy Anderson teaching other women how to start their preschools, I thought: "You go girl!  Come show me what you've put together!"
So she brought over her Preschool In A Box, the ultimate kit to start a preschool.  And I was blown away!  She first introduced her Preschool In A Box locally at her Boise seminar last month, and it was a huge hit obviously (some of you attended!)!  And now she's releasing it nationwide, and wants to make sure you fab readers get first dibs at it!  You can order your Preschool In A Box right now!
Wondering what a previous preschool teacher thinks of this Preschool In A Box?  Let me tell ya…
My first reaction after seeing this Preschool In A Box?  WHERE WERE YOU THREE YEARS AGO JOY!?!??!  If I had this Preschool in a Box when I started my own preschool, it would have saved me sooo much time! I spent hours and hours trying to find supplies, ideas for curriculum, and tried to figure out what skills 3 and 4 year olds should know.  I wasn't sure if I was supposed to be licensed and what all was entailed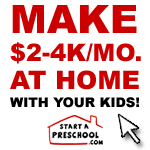 with that.    Not to mention learning by trial and (much) error what works and what doesn't work.  Having Joy, an experienced preschool teacher, tell me step by step how to start and run a preschool of my own is so awesome! I am absolutely THRILLED (yes, that's all caps!) that she put this together!  What a great way to empower women to stay at home with their own children while earning money teaching preschool!  She's got everything a girl could need in that box!  Thank you so much Joy!
She only has a limited number of boxes available, so go get yours now!
Please select the problem you are facing with this deal:
Price Increased
Price Decreased
No longer available
Expired
Link doesn't work
Suggestion
Compliment
Other
*Please select a problem type.
Add more details:
Thank you for your feedback. We really appreciate it.
Enter your email address if you would like to receive a follow up.
*Please enter a valid email address.
Thanks for providing the email address.
We will reach out to you as soon as possible.
Sorry, Current deals list is finished.