Plink: Spend $20 at Old Navy or Gap, Get a FREE $20 Gift Card!
 Have you signed up for Plink yet?
Spend $20 at Old Navy or Gap and get a $20 Gift Card!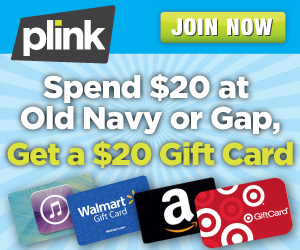 What is Plink?
Plink is a company that has negotiated deals with thousands of your favorite restaurants and stores who will give you rewards as a thank you for your business and your loyalty.  When you shop or eat out you'll earn rewards at more than 40,000 locations nation-wide by using your credit or debit card that is linked to your Plink account.  Your reward points automatically accrue! Free to join.
The Deal
Sign up for Plink today, make a minimum $20 in-store purchase at Old Navy or Gap by Sunday, 4/14 11:59 EST, and we'll give you 2,000 Plink Points – enough to redeem for a $20 Gift Card of your choice at places like Amazon.com, Target, Walmart, Kohls, Starbucks and more!
 The Fine Print
New Plink Members only

Plink Member must link a credit or debit card by Sunday, 4/14 11:59 EST

Minimum $20 necessary at Old Navy or Gap (after the member links a credit/debit card to their Plink account) to qualify for the bonus 2,000 Plink Points by Sunday, 4/14 11:59 EST

In-store purchases only, not valid for online purchases

Bonus 2,000 Plink Points will be awarded on Thursday, 4/18

Old Navy & Gap purchases that occur on 4/15 or later will not count toward this promotion, but will continue to earn Plink Points at their regular rate
How to Join
Sign up with Plink.com 
Link your credit or debit card.
Spend $20 at Gap or Old Navy Stores using your linked credit of debit card by 4/15 (in-store only).
Earn rewards! Get gift cards from Amazon, Starbucks, iTunes, Wal-Mart and more!
Sign up for Plink!
**Your account is safe with Plink. "We use bank-level encryption to secure our communications. Our system only scans your transactional data to track your purchases so that we can award you when you make a qualified transaction. Your personal information is never sold or shared in any way."
Please select the problem you are facing with this deal:
Price Increased
Price Decreased
No longer available
Expired
Link doesn't work
Suggestion
Compliment
Other
*Please select a problem type.
Add more details:
Thank you for your feedback. We really appreciate it.
Enter your email address if you would like to receive a follow up.
*Please enter a valid email address.
Thanks for providing the email address.
We will reach out to you as soon as possible.
Sorry, Current deals list is finished.