Opinion It: Take Survey, Enter $100 Giveaway!
Love to shop for Clothes?
Join the Opinion It Shopper Panel, take this short survey and be entered to win $100 Visa Gift Card!  After joining Opinion It, you can complete quick surveys to earn free gift cards to shop with!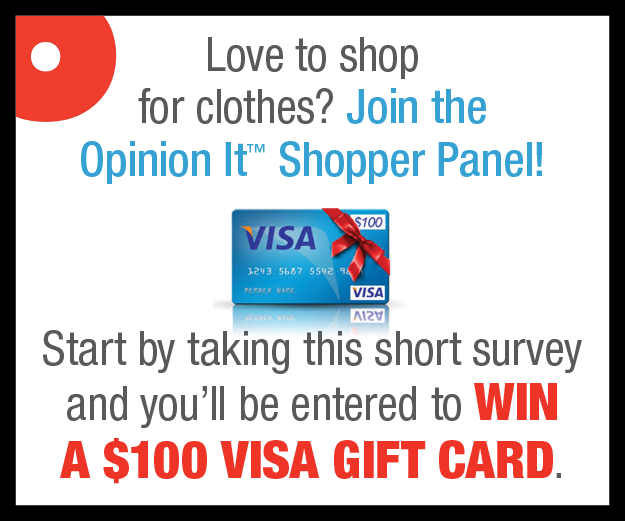 By completing the survey, you  will be joining a research panel for clothing buyers. You will be able to share your opinions and shopping habits on a regular basis and will take part in shaping the future of a major clothing retailer. Completing surveys will earn points that can then be redeemed for gift cards.   By completing the survey you will also be entered to win one of 20 $100 Visa Gift Cards!
They are currently looking for panelists who shop for clothing for themselves or others and who live in Washington, Oregon, Idaho or Texas.
Here's how it works:
They will send you surveys every week. Every time you complete a survey, they will reward you with 10, 25, 50, or 100 points [depending on how long the survey is]. Every time you earn 250 points, you can redeem them for an instant $10 gift card from Visa, PayPal, Amazon, Target, Gap, and many more!
There isn't a limit to the number of points you can earn or the number of gift cards you can get!
As an added bonus:
If you qualify, complete this very short introduction survey and join Opinion It they will credit your account with 50 points!  you will also be automatically entered into a drawing to win 1 of 20 $100 Visa gift cards!
**This is not a spammy survey company. You will be able to complete more surveys periodically and earn points to redeem for rewards!
Please select the problem you are facing with this deal:
Price Increased
Price Decreased
No longer available
Expired
Link doesn't work
Suggestion
Compliment
Other
*Please select a problem type.
Add more details:
Thank you for your feedback. We really appreciate it.
Enter your email address if you would like to receive a follow up.
*Please enter a valid email address.
Thanks for providing the email address.
We will reach out to you as soon as possible.
Sorry, Current deals list is finished.