How Does $500 off Your Next Microsoft Purchase Sound?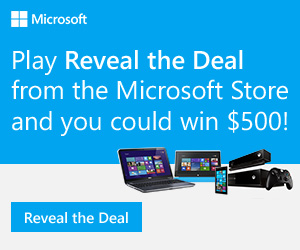 If you're the lucky winner, you can win up to $500 off!!  Think how many cool toys that would buy!!  Yippee!!

Subscribe to receive text messages from the Microsoft Store and you'll get the latest news, events and offers delivered to your phone via text. For signing up, you'll receive 5% off your next in-store or online purchase. Plus, you can win up to $500 to spend online! Play Reveal the Deal and be sure to reply and opt in once you receive the text. Click here to subscribe today!
They are giving TEN people $500, so be sure to come back every day until 5/31/14 to enter to win!
Sorry, Current deals list is finished.