GONE: High Value Sara Lee Snacks Coupon! (Hurry! This won't last long!)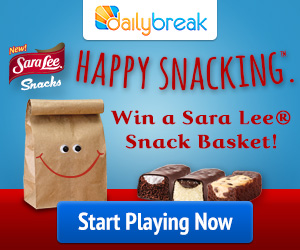 Hurry over to Dailybreak where you can complete a challenge and print a coupon for $1/1 Sara Lee Snacks!
Plus, you'll be entered to Win a Sara Lee Snack Basket
Check out the Sara Lee Happy Snacking Challenge on Dailybreak for your chance to win 1 of 10 Sara Lee Snack Baskets! This Challenge ends 3/18/2014 so start playing today!
Save $1.00 on Any Sara Lee Snacks 10oz. or larger after you complete the challenge. While coupons last. (Hurry!  These won't last long!)
Find more printable coupons!
Please select the problem you are facing with this deal:
Price Increased
Price Decreased
No longer available
Expired
Link doesn't work
Suggestion
Compliment
Other
*Please select a problem type.
Add more details:
Thank you for your feedback. We really appreciate it.
Enter your email address if you would like to receive a follow up.
*Please enter a valid email address.
Thanks for providing the email address.
We will reach out to you as soon as possible.
Sorry, Current deals list is finished.