FREE Pair of Glasses from Coastal Contacts! (Offer ends 7/31)
That's right, FREE prescription glasses!
What's the catch, you ask?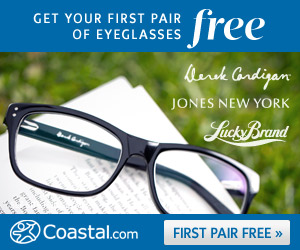 That's what I thought too, but I tried it and there is no catch.  They just want you to try ordering glasses in a whole new way.  Just us coupon code FPF10 at checkout and you only pay shipping and handling PLUS get a 10% discount on lens upgrade (totally optional)!  I think my shipping cost was about $15.  That's pretty FAB for new glasses that usually cost over $100-$200!  The quality is great and the complete set of glasses comes with a hard protective case, a cleaning cloth and a tiny screwdriver repair tool.  There are tons of styles and name brands to choose from, even designer glasses!  Try them on at home and if it the frames don't fit, return shipping is free! I LOVE THIS DEAL!
Here is the pair that I got for my daughter!  They were super cute, great quality and came with a carry case, hard case, cleaning cloth and small screwdriver!
How do you get yours?
Visit Coastal Contacts.
Select a frame you like. (make sure to select one that says "eligible" at the bottom).
Enter your prescription information.
Select type of lenses

(includes standard lenses)

 and any "extras."

Lenses upgrades and coatings are available at additional cost.

Add glasses to shopping cart and continue checkout.
Enter shipping information.
Shipping charges up to $20 apply.
Use coupon code FPF10
NOTE: Available for first time glasses customers only.
Shop for back to school glasses for yourself or for your kids!  This deal cannot be beat and they have so many cute glasses to choose from!  Coastal.com is the largest online contact lenses and eyewear retailer in the United States. They offer the biggest selection of designer and brand name eyeglasses, sunglasses, and contact lenses at the most affordable prices anywhere on the web.
It is important to them that you to find the perfect pair of eyewear for you, which is why they have interactive with features like, Try On View and Find Your Perfect Fit tools. 
More coupon codes & Deals:
Eyeglasses
2 pairs of glasses for $99 (select styles) with code 2FOR99, plus free shipping!
New customers receive 10% off their order plus free shipping with code NEWCOASTAL!
25% off all eyeglasses plus lens upgrades with code 25EXTRA!
20% off eyeglasses including lens (no minimum) plus free shipping with code EG20P!
Sunglasses
20% off RX Sunglasses (no minimum) Plus Free Shipping with code 20RXSUN!
20% off Sunglasses (no minimum) Plus Free Shipping with code 20SUNNIES, Excludes Oakleys
Contact Lenses
First time contact customers get 20% off total purchase with code FIRSTCONTACT!
15% discount when purchasing 4+ boxes of contact lenses with code 15OFFCL!
All
$25 off plus free shipping on $199+ with code COASTAL25!
$10 off plus free shipping on $99+ with code COASTAL10!
Free Shipping on all orders $99+ with code FREESHIP14!
Please select the problem you are facing with this deal:
Price Increased
Price Decreased
No longer available
Expired
Link doesn't work
Suggestion
Compliment
Other
*Please select a problem type.
Add more details:
Thank you for your feedback. We really appreciate it.
Enter your email address if you would like to receive a follow up.
*Please enter a valid email address.
Thanks for providing the email address.
We will reach out to you as soon as possible.
Sorry, Current deals list is finished.