Free Nabisco Cookies at Dollar Tree!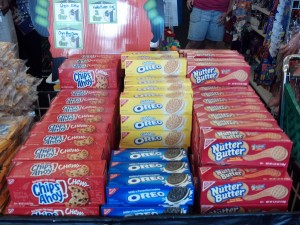 Dollar Tree just got Nabisco cookies!  They are priced at 2 for $1, so if you use the $1/2 Nabisco Cookies Coupon, they will be FREE!
**Deal Scenario**
Buy (2) Nabisco Cookies 2/$1
Use (1) $1/2 Nabisco Cookies Coupon 
Final Price: FREE!
Disclaimer – Not all Dollar Tree's carry the same product, and these were just put out today, so if you don't find them, ask if they have any in back!
Thanks Fun2BFrugal!
Sorry, Current deals list is finished.