Enter to Win Windows 8 Daily Prizes and $10,000!
Want a chance to win $10,000 and 4,000+ daily instant win prizes?
Just view the new Windows Phone 8 demo!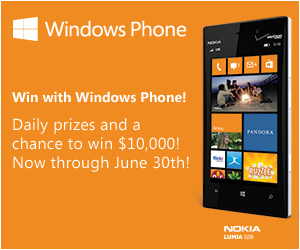 All you have to do is click the picture above and check out the Windows 8 phone demo, the only phone with a People Hub, where you'll find your contacts, kick off conversations, check out friend's latest posts and photos and much more! Then simply enter the sweepstakes for your chance to win amazing prizes! Visit daily for more chances at the cash/grand prize and the daily instant prizes!  Hurry, this ends June 30, 2013!
Easy To Enter:
Click the picture above

Then log into Facebook (if you aren't already)

Click the blue dots

Click and slide the arrows until you see 'enter to win' up top.
Click the picture above to Enter!
Please select the problem you are facing with this deal:
Price Increased
Price Decreased
No longer available
Expired
Link doesn't work
Suggestion
Compliment
Other
*Please select a problem type.
Add more details:
Thank you for your feedback. We really appreciate it.
Enter your email address if you would like to receive a follow up.
*Please enter a valid email address.
Thanks for providing the email address.
We will reach out to you as soon as possible.
Sorry, Current deals list is finished.