Elmo's Learning Adventure Gift Package Only $7.95!
Do you have a Sesame Street Fan or Preschool Child at your house?
Get this  Elmo's Learning Adventure Gift Package for only $7.95 PLUS a FREE Preschool-ready Elmo Backpack! Valued at $44.75!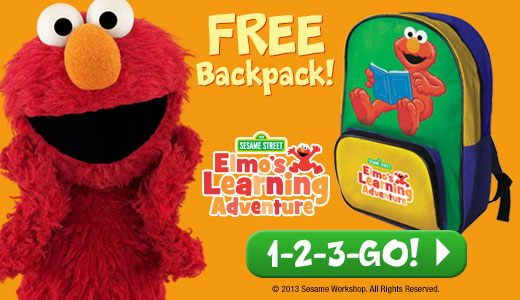 Attention all parents of preschool aged tots! Are you trying to get your child ready for school? Then come on down to Sesame Street to scoop up this amazing Elmo's Learning Adventure Gift Package for just $7.95 plus shipping and handling! Your child will LOVE to learn when Elmo & the rest of the Sesame Street gang teach numbers, colors, the alphabet, sharing, health and problem solving. This gift set includes hardcover Storybooks, Activity Books, Adventure Cards, a Colorful Bookcase, Laminated Storage Box and Divider Cards. And did I mention that you get a FREE Elmo backpack, too? Sounds like there will be only sunny days ahead!
Elmo's Learning Adventure Gift Package Includes:
2 

Hardcover Storybooks, 

2 Activity Book with learning activities

12 Adventure Cards 

Colorful Bookcase.  

Keeps your hardcover Storybooks 

and Activity Books all in one place.

Sturdy, Laminated Storage Box 

9 Divider Cards 

Organize your Adventure Cards and 

keep them neat.

FREE Elmo Backpack
FREE Shipping
Bonus Offer:
Add 2 additional Hardcover Story Books with Activity Books and Adventure Cards for only $9.95!  That's 50% off!  Plus no additional shipping!
Please Note: This is a book club.  You will be sent new shipments every 3 weeks or so.  Cancellation info detailed in the How the Program Works section.
Sorry, Current deals list is finished.