FOUR Boxes Wheat Thins Original Whole Grain Wheat Crackers, 20 Oz as low as $3.44 EACH Box After Coupon (Reg. $5.74) + Free Shipping + Buy 4, Save 5%
Hop over to Amazon and get a deal on FOUR Boxes Wheat Thins Original Whole Grain Wheat Crackers, 20 Oz. These wheat crackers get their salty-sweet flavor from 100% whole grain wheat for a snack that's wholesome and delicious. Wheat Thins whole grain crackers have the crunchy texture and salty taste you love without artificial colors or flavors. Pair these snack crackers with cheese, fruit or spreads, or enjoy them all on their own. This product is included in Amazon's Buy 4, Save 5% promo. Add FOUR to your cart = $21.81 or just $5.45 each box. Clip the 20% off coupon. Choose to Subscribe & Save, and you will score a great deal. Just make sure you have 5 or more items in your monthly order to max out the available discount of 15% off this item = $18.37 minus the coupon = $13.78 or just $3.44 each box! Subscribe & Save shipping is free! Check out more fab deals on select items included in Amazon's Buy 4, Save 5% promo. Try these with any of these party-worthy dips: Cream Cheese Caramel Apple Dip, Amazing Spinach Artichoke Dip with Alfredo Sauce, and this Easy Cheesy Crab Dip.
Find more Amazon Subscribe & Save deals to get 15% off your order! See our Amazon Subscribe & Save Tips!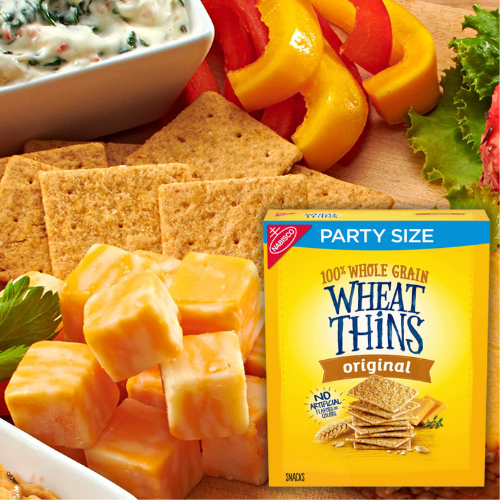 One 20 oz party size box of Wheat Thins Original Whole Grain Wheat Crackers

100% whole grain crackers with a deliciously salty, but slightly sweet taste

Each serving has 21 g of whole grains, and no cholesterol, high fructose corn syrup, artificial flavors or colors

Thin baked crackers are versatile whole wheat snacks great for parties and gatherings

Serve them with cheese or meat, dip them in spreads, enjoy 'em straight from the box, or create wholesome on the go snacks

Amazon Prime members get FREE 1 to 2-day shipping on most orders + more! Sign up for your FREE 30-day trial HERE!
Click HERE to snag the deal!
12-Pack Edward & Sons Brown Rice Snaps, Tamari Seaweed as low as $10.19 Shipped Free (Reg. $29.66) – 85¢/3.5 Oz Pack! FAB Ratings! LOWEST PRICE!
---
Save Money on the ESSENTIALS in THREE Easy Steps!
Download our FREE app [CLICK HERE!]
Tap to select the types of deals and brands you want deals on.
Sit back and relax… we'll find the deals and send you a notification when the stuff you want costs LESS!
Please select the problem you are facing with this deal:
Price Increased
Price Decreased
No longer available
Expired
Link doesn't work
Suggestion
Compliment
Other
*Please select a problem type.
Add more details:
Thank you for your feedback. We really appreciate it.
Enter your email address if you would like to receive a follow up.
*Please enter a valid email address.
Thanks for providing the email address.
We will reach out to you as soon as possible.
Sorry, Current deals list is finished.