Free Recipe Book + Help Feed America!
Click on the bottom right hand corner and to get a FREE Recipe book!
Plus, when you buy a jar of Barilla Sauce = Donate to Feeding America!
For every jar of Barilla sauce purchased at any store, Barilla will donate $0.05 to Feeding America's National Produce Program, which secures one pound of fresh produce on behalf of local food banks! Barilla will make a minimum donation of 4.2 million pounds of fresh produce ($150,000).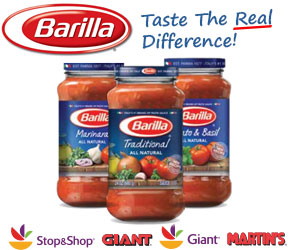 If you shop at Giant, Martin's, Giant Food Stores, or Stop & Shop, there is an additional donation match made locally!
During the period 4/25/14 to 5/1/2014 at Giant, Martin's, and Stop & Shop stores and 4/27/14 to 5/3/14 at Giant Food Stores, Barilla will match that donation with $0.05 for every jar of Barilla sauce purchased, to the local Feeding America food bank to secure fresh produce specifically in Giant Landover, Martin's, Stop & Shop and Giant Carlisle markets. Barilla will make a maximum donation of $20,000 to the local Feeding America food banks. The states where these stores are located: CT, DC, DE, MA, MD, NH, NJ, NY, PA, RI, VA, WV.
Barilla sauce is all natural, gluten free, and contains no preservatives! Each 1/2 cup serving of sauce provides 1 cup veggie equivalent. Check out great recipes from Barilla!
Buy Barilla sauce this week and help Feed America!
Please select the problem you are facing with this deal:
Price Increased
Price Decreased
No longer available
Expired
Link doesn't work
Suggestion
Compliment
Other
*Please select a problem type.
Add more details:
Thank you for your feedback. We really appreciate it.
Enter your email address if you would like to receive a follow up.
*Please enter a valid email address.
Thanks for providing the email address.
We will reach out to you as soon as possible.
Sorry, Current deals list is finished.