Score Baby Coupons, Samples, and Discounts!
Save on baby items with the perks of a baby registry!
If you are expecting or have a new baby, you don't want to miss out on the perks of creating a baby registry! Sure, it is a wonderful way to let others know what you would like to receive and to prevent duplicate gifts. But there's more…
Many popular stores offer a baby registry service and by signing up you may get awesome baby coupons and additional discounts! And you don't need to limit yourself to just one registry. Take advantage of as many of these offers as you want! Even if you don't expect to have a baby shower, you can gear up or upgrade your baby stuff for less with these registry discounts.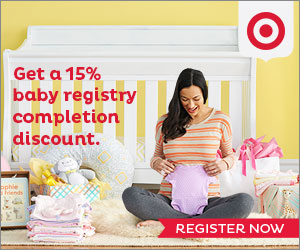 Target always has cute baby stuff! By creating a Target Baby Registry you get:
A free gift – $50 worth of coupons and free samples!
15% off most registry items in-store and online
Easy returns and exchanges
By the way, you get 5% off and free shipping when you use your Target REDcard. Otherwise, it is free shipping on orders of $25. And while you're at it, you can text BABY3 to 827438 (TARGET) to get mobile baby coupons every month!
There is a HUGE variety of baby products on Amazon – I'm guessing you can find anything you could possibly want on there. And even if you can't, you can add items from other websites to your Amazon Baby Registry! Here are the Amazon Baby Registry perks:
15% off most registry items for Amazon Mom members (10% off if you are not an Amazon Mom member)
You can add anything from any online store with a universal button
Free returns for 90 days!
Automatically generated "Thank You" list
Enter the baby registry sweepstakes for a chance to win a $500 gift card!
This is a cool registry to create if you are having a baby shower because you earn a commission off what you and others buy from your registry!
Earn 5% back on purchases made from your registry for the first $300, and 10% on those purchases over $300 – earnings are emailed as an eGift Card. No exclusions.
Easy returns
Do you have a favorite baby registry that we haven't mentioned yet? I'd love to hear about it!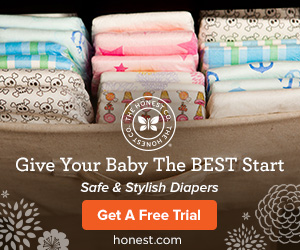 I've heard good things about the Honest Co diapers. Sign-up for a FREE Trial of Honest's All-natural, safe, and effective products for baby and home. Just be sure to pay attention to when the trial ends and re-order dates.
Save on Baby Products with these coupons!
Please select the problem you are facing with this deal:
Price Increased
Price Decreased
No longer available
Expired
Link doesn't work
Suggestion
Compliment
Other
*Please select a problem type.
Add more details:
Thank you for your feedback. We really appreciate it.
Enter your email address if you would like to receive a follow up.
*Please enter a valid email address.
Thanks for providing the email address.
We will reach out to you as soon as possible.
Sorry, Current deals list is finished.