4 Disney Books Just $.99 Each
Plus a free Disney activity book!
This deal is just in time for Summer Reading!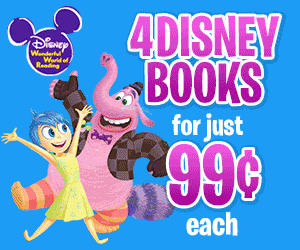 I LOVE these book clubs!  You can get a bunch of quality books for a FRACTION of the cost of any store!  You don't have to worry about getting them back to the library or accruing late fees!  Plus, you don't have to buy anything else. EVER!
Disney has fun and exciting tales that teach a positive message!  These Disney classics not only entertain but teach children about overcoming challenges, friendship, honesty and a whole lot more!  Stories like these will help kids learn to develop a love of books and discover the joys of reading.  All things that help children become a reader and learner for life!
Any 4 you want, just $0.99 each!
Then you can pick any extras for $2.49 each!  The entire package ships free!
Inside Out – NEW Disney/Pixar animated film!
Frozen
Sleeping Beauty
The Lion King
Alice in Wonderland
The Little Mermaid
Finding Nemo
Brave
Cars
Toy Story
Planes
Cinderella
Monsters University
Jungle Book
Wreck It Ralph
Beauty and the Beast
Winnie the Pooh
The Princess and the Frog
Monsters, Inc
Peter Pan
Up
The Incredibles
Lady and the Tramp
Toy Story 2
Tinker Bell and the Great Fairy Rescue
Bonus Books
Want more books?  You can grab any of the rest of the books for for only $2.49 per book!  No limit!  And they'll all ship free with the original shipment!
Details
Build a library of Classic Disney & Pixar Books
High-quality, hard cover editions
Receive 3 new books each month
Convenience of home delivery for less than $5 per book
Control your membership online
Adjust your shipping intervals
View account history
Preview upcoming packages
No purchase commitment <– My Favorite Part!
Risk free – Cancel anytime  <– My Favorite Part!
100% satisfaction guarantee
A+ BBB Rating
Final Price

This offer is a monthly book club. Customers will automatically be charged and sent additional books each month. To manage your account, call 1-800-353-3140 or login to your account online: https://www.earlymoments.com/Login/
I joined this club, and the Dr. Seuss club too, and it's super easy to skip shipments!
Just log in (they'll send you a temp. password the first time!)
Click my memberships
Click show details
Select send now, send later, or do not send!

Sorry, Current deals list is finished.